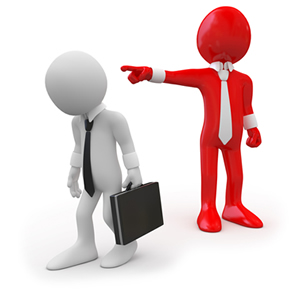 "Why should we provide Professional Outplacement Services
to our transitioning employees? What's in it for us?"
How do you, the company owner, department manager or HR professional justify spending more money for outplacement when you're trying to spend less money on personnel?
Suppose you have to lay off several employees or worse, shut down an entire division of your company. Unless your laid-off workers find new positions quickly, your unemployment insurance rates can increase significantly during subsequent quarters.
Recent legislation has also made it much easier for ex-employees to sue their employers for wrongful termination. Expert outplacement services help reduce this litigation by soothing ex-employees' hostile feelings and motivating them to pursue a successful job search.
Outplacement also makes excellent public relations sense. By providing outplacement services in a sensitive, caring manner, you'll nurture positive feelings about your company not just in your ex-employees, but with your current employees and in your community, as well.
Finally, outplacement helps enhance the morale of those people being retained, especially when the terminations are not due to any fault on the part of employees. Working with a professional outplacement firm long before the termination can help you avoid a host of problems and carefully orchestrate the action to show you really care about all your employees, past and present.
Key Elements of the Career Cafe Professional Outplacement Program
Behavioral Assessments and Career Evaluation
Utilizing industry leading assessment instruments such as the Extended DISC Personality Profile, the Strong Interest Inventory, and various Myers-Briggs tools, our staff can assist candidates in developing a profile of their personality, skills and career interests and compatibilities.
Career Coaching and Counseling
Answers to questions like, "Are my career expectations real? What do I need to do in order to become more marketable? Why am I not getting any responses to my resume? What types of companies and positions am I best suited to work for", etc.
Resume and Cover Letter Creation
Our staff will assist in the creation of both paper and video resumes for each individual. Training is provided in identifying the key elements needed and the proper form to present each of these elements. Additionally, we help create a marketing letter with sizzle that gets the candidate's foot in the door, and with formulating pre and post interview correspondence.
Role Play Interview Training
Interviewing etiquette is covered including what to wear to an interview, the most common questions asked during an interview and proper conduct during the interview process. Video interviewing techniques may be utilized to help our candidates role play and polish their performance and skills.
Development of a Marketing Program
Provide assistance with the development of a marketing campaign including identification of companies to approach and how to best approach them. What methods work the best and which methods produce the least results including the seven most effective means of getting an interview.
Successful Networking Techniques
One of the most important marketing methods to implement in your career search is a well defined networking program. We cover all facets of this area from utilizing your existing contact base to developing new leads and tracking your progress. We will help you make that 30 second marketing speech into a dynamic introduction that has them saying, "tell me more".